Double Ball Roulette
It may sound obvious, but we're going to point out that Double Ball Roulette is much like the standard version of Roulette however yes, it does have 2 balls in play! But what else makes this game so exciting?
What is Double Ball Roulette?
Double Ball roulette is a newer edition to the online roulette scene and is available at a select number of online gambling sites right now. We can thank Felt Gaming for this version of online roulette and also Evolution gaming for the live version.
Double Ball is a roulette game that looks super stylish, it's clear they've put a lot of effort into this game not only when it comes to graphics but also the innovation of the game itself.
Once you load up a game, you will instantly notice that the layout is really easy-to-use and there are some customisable options including whether you want the sounds on or off. I always opt for on, it just feels more 'real'. The graphics are sharp both on desktop and mobiles and tablets I tested it on. No complaints here.
How Do You Play Double Ball Roulette? Basic Rules & Game Layout
In a nutshell, Double Ball Roulette is very much a classic roulette game which sticks to European Roulette rules. What this basically means is that there is a zero on the wheel, however instead of a single ball, there are actually two balls are used for every spin of the wheel. Aside from that, it's as simple to play as any other game of roulette.
When it coming to placing your bets, the outside, inside, and call bets are still available that you'd see in a regular European Roulette game but it's important to mention that in order to win an inside bet, only one of the balls must hit. For outside bets then both balls must hit winning pockets for it to count. Here are some extra quick glance rules which you should keep in mind when playing Double Ball Roulette:
In Double Ball Roulette, an ordinary single- or double-zero wheel is used, but 2 balls are used in play.
The layout is the same as conventional European roulette.
Both balls must be successful for "outside" bets to win. For example, for a bet on Red win, both balls must land in a red number.
Either ball must be successful for "inside" bets to win. The player will win twice as much if both balls result in a successful outcome.
To hit the "Double Ball Jackpot" (see below) bet to win, both balls must land on a winning pocket.
Available Bets
Red, Black, Odd, Even, 1 to 18, 19 to 36: This Pays 3 to 1 when both balls land in the chosen 18 numbers.
1st 12, 2nd 12, 3rd 12: Pays 8 to 1 if both balls land in the chosen 12 numbers.
1 red, 1 [email protected] Pays 1 to 1 if one ball lands in a red number and the other on black.
1 Number: This pays 17 to 1 if either ball lands in the chosen number (and 34 to 1 if both do)
2 Number: This pays 8 to 1 if either ball lands in the chosen number (and 16 to 1 if both do)
3 Number: This pays 5 to 1 if either ball lands in the chosen number (and 10 to 1 if both do)
4 Number: This pays 3 to 1 if either ball lands in the chosen number (and 6 to 1 if both do)
5 Number: This pays 5 to 2 if either ball lands in the chosen number (and 5 to 1 if both do)
6 Number: This pays 2 to 1 if either ball lands in the chosen number (and 4 to 1 if both do)
The Double Ball Jackpot: The Double Ball Jackpot pays you 1,200 to 1 if both balls land in the selected number!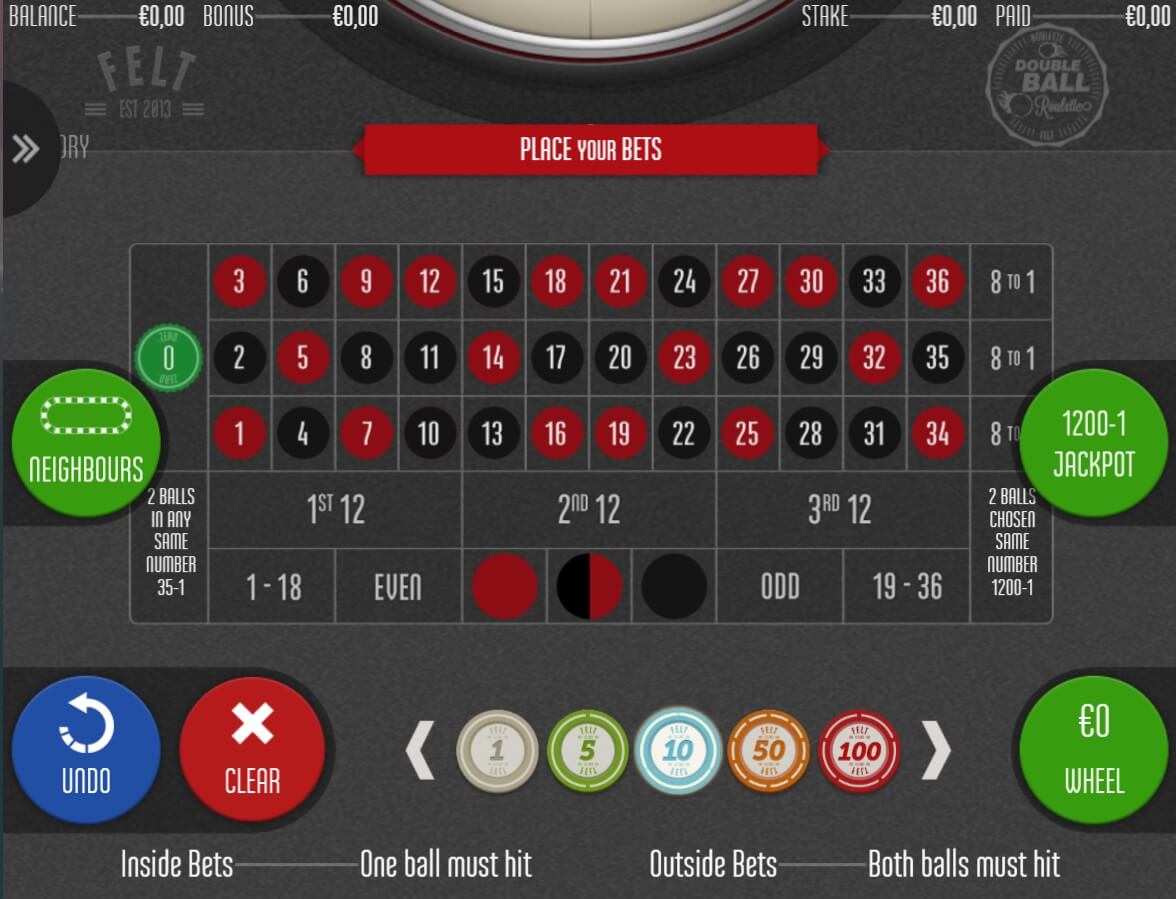 Hitting The Double Ball Jackpot
This is where Double Ball Roulette can get a bit exciting as there are some extra possibilities which have opened up thanks to the 2 balls being used. Aside from the normal inside, outside, and call bets, there are actually two more bets that you can place and here's the juicy bit: if you win then you will win BIG!
You see, you'll have the possibility to bet on the two balls landing in the same pocket – without having to pick a specific one. If this happens, you will get a great pay-out of 35:1! If however, you pick a number, and both balls land on it, then you can expect a pay-out of 1200:1! The chance of this happening is on the slimmer side, but it's good to know it can and when it does, the potential pay out in this game can be absolutely huge!
Double Ball Roulette Strategy
Best Online Roulette advises anyone playing this game to go for the bets with the highest expected return. So, in this case of a zero wheel, the best bet would be the inside bets on one single number, at a house edge of 5.33%. The house edge in standard double-zero roulette is at 5.26%. It's fair to point out that this is only 0.07% lower than the single-number inside bet in Double Ball Roulette. See here for the most popular and well known online roulette strategies.
Live Double Ball Roulette
You also have the chance to play a live version of Double Ball Roulette at various online casinos. If you like to dabble in live casino games then we can say that the live version is pretty amazing too. Simply load a game, enter your nick name and get started with a croupier right in front of you, ready for for your first bet. The game is exactly the same as the RNG version, only the live version brings the game to real life!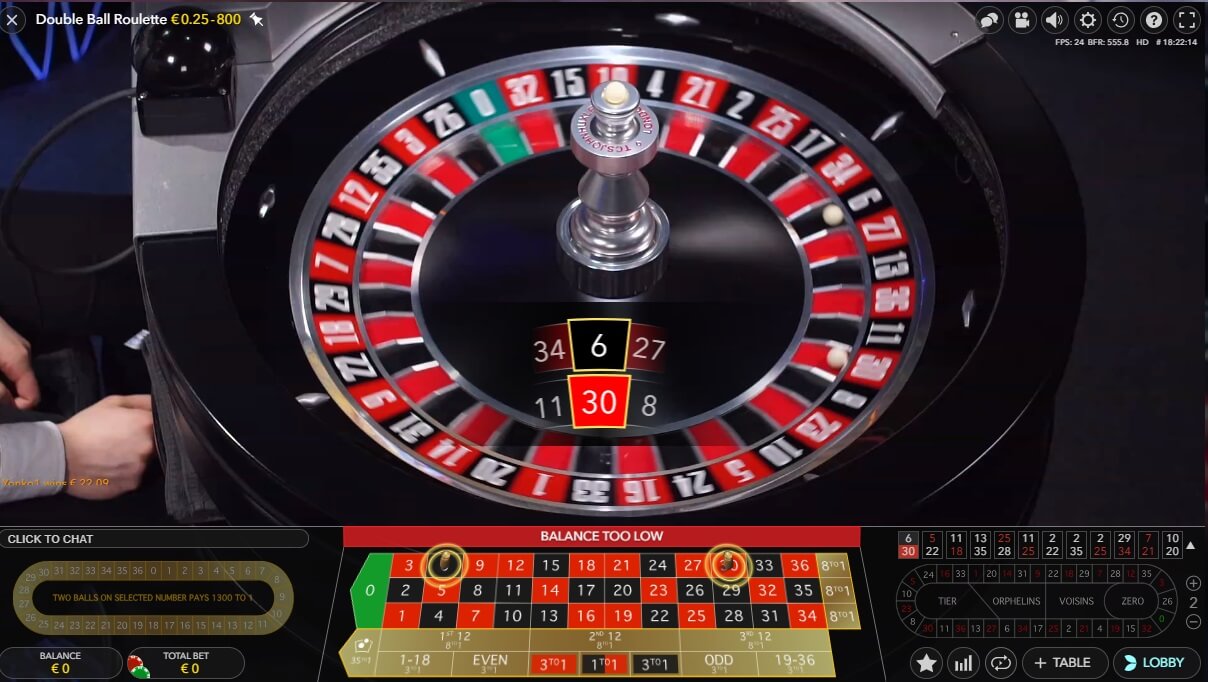 Play Double Ball Roulette Online: For Free or Real!
Now you know what the game is all about, how about trying it for real money or free at a good, honest online casino? If you're wondering what the best online casinos ore that 100% offer this game, then check out these trusted and honest roulette sites suggestions.
We review the top casinos below which offer Felt's amazing Double Ball Roulette as well as Evolutions Live Version and plenty more. They're also on the list as they offer new customers some amazing bonuses to help you get started, plus plenty of offers on a regular basis. If you want to play in fun mode then there's always that option too.
If you want a few suggestions for some of the best online casinos around, you can find them here.